Maintenance &Parts
THE USE OF THE CLEANING SOLVENTS

Pure, non-deteriorative and non-combustible tri- chloroethane or combustible cleaning naphtha.
MAINTENANCE OF THE GUN
From day to day or before storing away the gun for any length of time, it is necessary to spray the diluted mixture solution of the machine oil in 5% or 10% to the petroleum solvents to prevent the rusts of its pump cylinder. Every 5 gallons of cleaning solvent sprayed, its lubricating hole should be filled with 5 drops of lubricating oil. Please see directions on usage and maintenance for details.
TENLUXE Cleaning Gun Type A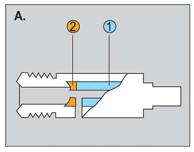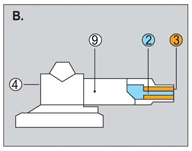 Usage: Textile cleaning Coating of rust ban oil Cutting of silk screen

Coating of rust ban oil Cutting of silk screenCopper alloy pump cylinder can stand wear and tear (See Drawing A① ) with wear-resistant chromium ring A② equipped. It sucks the liquid easily. It is airtight.
An adjusting eye is specially designed (See B⑨). It is adjusted easily‧
The transmission component in its front body has copper alloy to endure wears. (See B③) The transmission's guiding track (See B②) and the inner hole (See B ④) where the cylinder is installed have been precisely polished.
The aluminum alloy housing can en-dure wears.
Tenluxe Textile Cleaning Gun® has been produced since 1969. It is improved with our wealth of experience.
TENLUXE Cleaning Gun Type B

Usage : Textile Cleaning Coating of Rust Ban oil Spray the flowers with water Environmental disinfection Machinery maintenance Cutting of Silk Screen

The pump cylinder is made of wear resistant copper alloy (Drawing C①) to be equipped with durable chromium ring② to make sure airtightness
The oil storage ⑥ is designed to allow the lubricating oil entering the pump at any time,so that pistons can last longer
The piston spring (C ⑤) has specially designed mechanism, so that no contact between the spring and liquid C ④ will prevent the spring from corrosion in future
Nylon housing is made in beautiful colors and its streamlined dosign makes it to stand wears and collisions. The heat will not scald you. It can be washed
You just adjust the liquid volume for ejection
Two kinds of cups 600cc and 800cc, or with independent pipes to transfer the liquid.
Multi purpose nozzle head, even capable to concentrate or diffuse, elongate or bend as you wish