MAINTENANCE & PARTS
THE USE OF THE CLEANING SOLVENTS:
Pure, non-deteriorative and non-combustible tri- chloroethane or combustible cleaning naphtha.
MAINTENANCE OF THE GUN:
From day to day or before storing away the gun for any length of time, it is necessary to spray the diluted mixture solution of the machine oil in 5% or 10% to the petroleum solvents to prevent the rusts of its pump cylinder. Every 5 gallons of cleaning solvent sprayed, its lubricating hole should be filled with 5 drops of lubricating oil. Please see directions on usage and maintenance for details.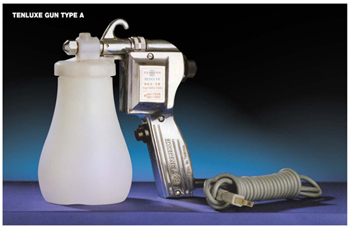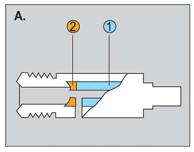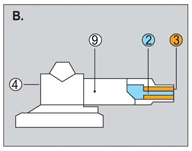 Usage: Textile cleaning Coating of rust ban oil Cutting of silk screen
*Copper alloy pump cylinder can stand wear and tear (See Drawing A① ) with wear-resistant chromium ring A② equipped. It sucks the liquid easily. It is airtight.
*An adjusting eye is specially designed (See B⑨). It is adjusted easily‧
*The transmission component in its front body has copper alloy to endure wears. (See B③) The transmission's guiding track (See B②) and the inner hole (See B ④) where the cylinder is installed have been precisely polished.
*The aluminum alloy housing can en-dure wears.
*Tenluxe Textile Cleaning Gun® has been produced since 1969. It is improved with our wealth of experience.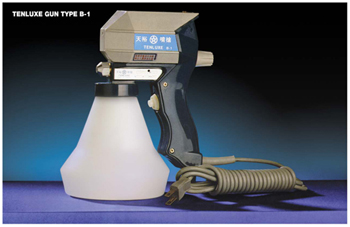 Usage :
Textile Cleaning
Coating of Rust Ban oil
Spray the flowers with water
Environmental disinfection
Machinery maintenance
Cutting of Silk Screen
* The pump cylinder is made of wear resistant copper alloy (Drawing C①) to be equipped with durable chromium ring② to make sure airtightness。
* The oil storage ⑥ is designed to allow the lubricating oil entering the pump at any time,so that pistons can last longer。
* The piston spring (C ⑤) has specially designed mechanism, so that no contact between the spring and liquid C ④ will prevent the spring from corrosion in future.
* Nylon housing is made in beautiful colors and its streamlined dosign makes it to stand wears and collisions. The heat will not scald you. It can be washed.
* You just adjust the liquid volume for ejection.
* Two kinds of cups 600cc and 800cc, or with independent pipes to transfer the liquid.
* Multi purpose nozzle head, even capable to concentrate or diffuse, elongate or bend as you wish.